PROFESSIONAL SYSTEM OF COSMETIC TREATMENT
Cleaning, peeling, correction of age-related changes, acne, rosacea
meillumé

Magnificent by its efficiency and quality, meillumé is a full collection of dermato-cosmetic products of professional skin care.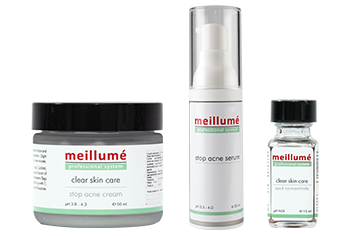 ---
meillumé
Unique system of professional skin care, developed and manufactured by Canadian research centretogether with specialists of key clinics of plastic surgery in Beverly Hills. It allows to correct a wide range of aesthetic defects and it is the embodiment of scientific approach at professional skin care and the next level of cosmeceutical evolution. meillumé system has a clear, intuitively understandable structure, and contains several procedural stages, each of which can be performed independently or in combination with other stages, depending on skin features and aesthetic problem difficulty. Combining different elements of meillumé system, cosmeticians have an opportunity to create a personalized program for each client.
Special amplifiers of the effects of cosmetic products such as boosters – are present in the formulations, like concentrated herbal powder, produced by lyophilisation method. With theirhelp, therapeutic action of our cosmetic products can be strengthened. Base procedural stages are aimed to gain three main goals which dermato-cosmetician faces:
PROFESSIONAL SKIN CLEANING

MULTIFACTORIAL PEELING PERFORMANCE

INTENSIVE THERAPY OF AESTHETIC DEFECTS
Each of these stages includes several programs, which could be used independently or in different combinations.
PROFESSIONAL CLEANING includes programs, which allow to perform skin cleaning with the help of cosmetic products (scrubs, chemical and enzymatic weakeners of intercellular bonds), and also to prepare skin for usage of instrumental methods (ultrasonic / de-incrustation) and performance of atraumatic manual skin cleaning.
MULTIFACTORIAL PEELINGS: the latest generation of skin peeling formulations, which not only provide an exfoliating effect, but are also unique products for controlled skin stimulation. The products are based on the safestand most effective components, which, together with boosters, allow a deep activation of metabolic, detoxification and repairing skin processes; greatly strengthening the following action of therapeutic products
INTENSIVE THERAPY is aimed to correct the maximum possible quantity of pathogenetic links, compiling the base of aesthetic defects, which results intheir effective removal.
Professional system of cosmetic care meillumé
---
High efficiency of scientifically based programs and their components;
Unique concept of booster elements, allowing activate system product action many times;
Clear and accurate logic of application;
Possibility to create personalized programs and assurance of a visible improvement in skin condition soon after first procedures;
Product efficiency and procedures costs matching its effects.
---
PROFESSIONAL SYSTEM OF COSMETIC TREATMENT
Non-invasive deep skin cleaning
Deep cleaning of oily or mixed skin, comedone removal and prevention of their appearance, inflammation removal and acne eruption elimination, evening out skin tone. This treatment can be built into a longer cosmetic procedure as a deep skin cleaning step.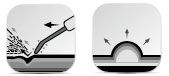 ---
Delicate dry, sensitive and rosacea skin cleaning
Delicate cleaning and detoxification of any skin type, including hyper responsive and rosacea skin. Acne treatment in combination with dry seborrhoea and epidermal dehydration, rosacea. Evening out skin tone and skin texture improvement. Inflammation removal. Necessary preparation for peeling, microdermabrasion, laser resurfacing, photo and laser therapy. This treatment can be built into a longer cosmetic procedure as a deep skin cleaning step.

---
Hypersonic face cleaning
Detoxification and deep cleaning of normal, mixedand oily skin, including acne form. Skin regeneration speed-up, its tonus elevation, blood circulation improvement. This treatment can be built into a longer cosmetic procedure as a deep skin cleaning step.

---
Acne therapy with azelaic peeling
Skin care treatment, suitable for oily problem acne skin. Active ingredients of cosmetic products, included into the procedure, influence all acne appearance process: reduce hormonal activation of oil glands, suppress surface skin fat production, appear antibacterial and anti-inflammatory action. Course of procedures leads to seborrhea decrease, reduces comedons and inflammatory elements, improves skin quality, its surface, color and texture.

---
Skin whitening with glycolic peeling
Effective skin resurfacing, prevention and intensive therapy of age-related changes, hyperpigmentation and pitted acne scar treatment. Active ingredients, included into the procedure, aimed at the processes of melanogenesis, show their action at several levels simultaneously: prevent synthesis of melanin and at the same time discolor existed pigmented spots. The technology of procedure performance foresees booster usage – cosmetic products' actuator. It allows individualizing peeling and making its action stable. It can be used for preparation to skin care and deep peeling .

---
Four seasons pumpkin enzymatic peeling
Effective four seasons therapy of age-related skin changes, dehydration removal, and also dry and oily seborrhoea, hyperkeratosis. It favours theactivation of blood supply in tissue, and fills it with vitamins and microelements. It evens out face tone, help to prevent hyperpigmentation, scars and after-acne spots. It can be used as expresstreatment at any time of the year.

---
Face-lift treatment with berry multi peeling
Professional procedure of facial contours modelling. It effectively completesplasticity loss, reduces wrinkles evidence, supplies instant lifting effect, and provides powerful drainage action. The procedure allows to return skin vibrancy and homogeneous tin to skin in a very short time, and also revitalizes its tonus and elasticity, strengthening facial contours significantly.

---
Detoxification with ferulic peeling
Detoxicant treatment is a starting program before any course of anti-aging procedure. Program is aimed at prevention and correction of skin aging due to stress (smoking, drug administration, influence of environmental factors). This procedure allows to improve skin colour and skin texture, reduces depth and evidence of wrinkles, returns skin brightness and young appearance. It can be performed once as an express treatment.

---
Almond peeling for sensitive skin with rosacea
The procedure is aimed at sensitive skin and skin with rosacea. It is an effective product for skin rejuvenationand aestheticproblems correction, at the same time supplying an intensive influence with minimum sore force function. Product course conduces skin texture improvement and skin tonicity, leads to visible whitening of hyperpigmentation focus, restores barrier functions of skin, and raises local immunity. The procedure could be undertaken for the whole year, also at the period of high solar weather.

---
Retinol peeling
This procedure of physiological renewal, allows getting complex effects working with skin of different types. It is undertaken for prevention and correction of chrono and photoaging , dehydrated skin therapy, at hyperpigmentation and Papillon-Lefevre syndrome, and also oily skin treatment with age-related changes and pitted acne scars.

---
Intensive skin resurfacing with physiotherapy and milk peeling
Express-procedure aimed at removing different symptoms of chrono and photoaging. It combines programs of renewal and hardware treatment. Can be undertaken once as an express treatment.

---